HELP THOSE IN NEED
Over the last 2 weeks, two major hurricanes have affected the southern part of the United States. As a church body, we would like to help those in need.
There are two ways in which you can help:
1) Give financially. You can give by marking on your tithing envelope: Hurricane Relief or you can also give online by clicking the "Give" button. There is a line item for "Hurricane Relief."
2) The second way to help is by donating much needed goods. Items needed include the following:
Personal hygiene products

Health items (bug spray, OTC medicines)

Baby items (please, no toys or stuffed animals at this time)
We will be setting up collection days on Tuesday, the 12th and Wednesday, the 13th at the Canton Baptist Bus Garage from 7am to 7pm. The address of the bus garage is 1530 Whipple Ave SW. Canton.
We will be taking our first load later this week to a church in central Florida that will act as the staging area to distribute items to other churches and individuals.
Check back at this page or our Facebook page for more details in the coming days.
Our hearts, thoughts and prayers all go out to the victims of the recent hurricane activity in both Texas and Florida.  If you would like to send much needed supplies directly to the areas affected, Canton Baptist has volunteered to collect and disperse items that you would like to donate.  Those items include bottled water, batteries, paper products such as paper plates, napkins, paper towels, toiletries, personal hygiene items and any non-perishable, ready to serve food items.  100% of your donations will be go the relief effort.  Thanks for your participation and please consider helping any way possible.

Thank you for joining us in helping the men, women, and children who have lost so much due to these storms. Each act and donation helps rebuild a community.
CLEAN WATER
During flooding, clean water is usually one of the first vital needs to come up. Local water supplies become contaminated, and stores either sell out or become flooded themselves. This is one of the biggest needs.
HEALTH ITEMS
With many drug stores closed, finding common over the counter medicines can become impossible. Additionally, the flooding and standing water breed enormous mosquito populations. These items are a vital need.
NON-PERISHABLE FOOD
Water damage and lack of power cause much of the local food supply to spoil. Your generosity in giving can help feed a family that might otherwise go hungry.
PERSONAL HYGIENE
Donated goods such as deodorant, toothpaste, tooth brushes, shampoo, soap, and more can be an important first step to getting a family back to normal.
What To Give & What Not To Give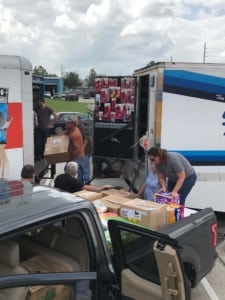 Some Helpful Items Include:
– Hand-held snacks (granola bars)
– Ready-to-eat food in pull-top cans
– High-protein food in pouches or pull-top cans (tuna, beef stew, chili and canned chicken)
– Peanut butter
– Cleaning supplies (bleach, non-bleach and paper towels)
– Personal hygiene items (toothbrushes and toothpaste)
What Not To Donate
– Make-up
– Clothes
– Other non-essential items
CHANGE A LIFE TODAY
100% of your donations go directly to hurricane relief. We can't control when and where disasters happen but we can come together and rebuild the communities affected. Thank you for your generosity and acts of love in the face of overwhelming challenges.